Emotional Support
BODE TO THE RESCUE!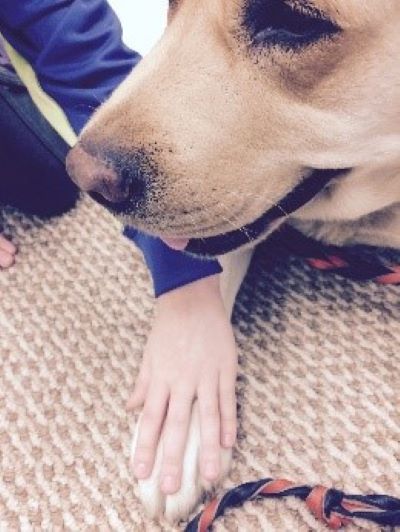 hand to paw – relieving test anxiety
It's common for students to experience anxiety when anticipating the PSSA (Pennsylvania System of School Assessment) testing, which is administered to third and fifth graders in Pennsylvania elementary schools. Teachers do whatever they can to encourage their students to be confident and comfortable about taking the test.
Last spring a teacher at Richboro Elementary in the Council Rock School District had a third grade boy who was extremely anxious about taking the PSSA test. She was concerned that it would seriously impede his focus so he wouldn't be able perform to the best of his ability.
Knowing that the Nor'wester organization is available to work with guidance counselors and in crisis intervention, the teacher called on Wendi Huttner who was visiting Richboro weekly with Bode, a yellow Lab that belongs to her son Blake.
Wendi and Bode made an emergency visit to the school and spent about 30 minutes one on one with the student in the guidance counselor's office. Bode's calm and cheerful demeanor helped the boy to relax, and at the end of the visit he declared to Wendi and the guidance counselor, "I'm OK now. Let me go take the test!"