Volunteer
MEET OUR THERAPY DOG TEAM: KELLY WOLFF AND MISS DAISY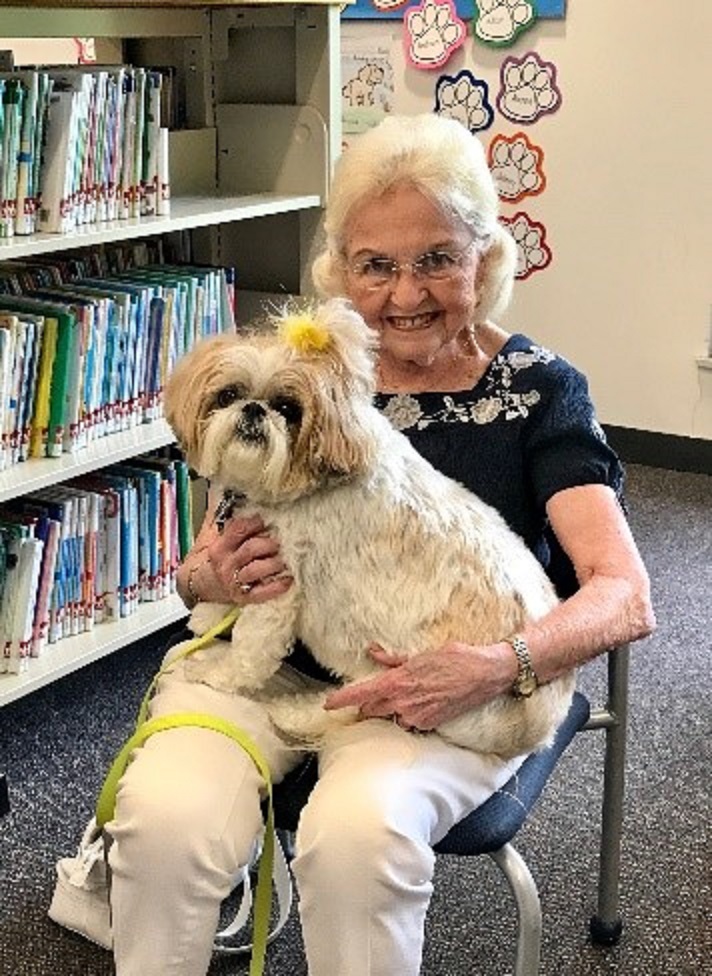 Dolores (better known as Kelly) Wolff and her Shih Tzu, Miss Daisy, have been part of the Nor'wester Therapy Dog organization for the past eleven years. Kelly learned about our canine assisted learning program from another therapy dog handler while volunteering at Abington Hospital. Because Miss Daisy loves children so much, Kelly decided to join Nor'wester Therapy Dogs.
Kelly is a native of Philadelphia, and was raised in North Wildwood, NJ. She graduated from Gwynedd-Mercy Academy and then went to the University of Pennsylvania for a degree as a dental hygienist. After working in this profession for 10 1/2 years, marrying, and raising her two children, she decided, at the age of 38, to go back to school for a nursing degree. She attended Gwynedd-Mercy College where she acquired her BSN degree. Kelly then went to work at Holy Redeemer Hospital as a Labor & Delivery nurse for 27 years. "I loved every minute of those 27 years," says Kelly.
Kelly has had dogs all her life. She grew up with large breed dogs such as German Shepherds, Collies, and Great Danes. She had Great Danes until 1994 when she lost her last Dane named Alex. At that point she decided to move to a smaller breed and got a miniature French Poodle whom she named P.J. Wolff. P.J. delighted everyone with his intelligence and obedience, but succumbed, at age 12, to a non-operative tumor in his ear.
Shortly after P.J.'s death, Kelly's best friend convinced her that the Shih Tzu was a perfect breed for her. She found a wonderful breeder of Shih Tzu dogs and was permitted to choose her puppy from a litter of five. Miss Daisy displayed her wonderful temperament at an early age. It was this that made Kelly decide to pursue therapy dog certification with her.
Miss Daisy passed "with flying colors" and joined the Abington Hospital therapy dog program. Occasionally they also visited a nursing home in Rydal, PA. Currently they add Rolling Hills Elementary School (Council Rock School District) to their list of therapy dog visits. Miss Daisy is a "good listener" to the students in Mrs. Suzanne Swenson's class. During the past two years, Kelly and Miss Daisy have added weekly visits to classes at Belmont Hills and Valley Elementary Schools in the Bensalem School District.
"She is so eager to go to work," relates Kelly. "She leads me to the classroom and wiggles her whole body when she sees her children. I know how much they love her from all the special stories they write about her."
When she is not doing therapy dog work, Kelly loves to travel. She says she got the "travel bug" from her father who was a Chief Steward on passenger liners. She feels fortunate that she has been able to travel extensively. Her other hobby is solving crossword puzzles. "I'm afraid I'm an addict," she confesses.
"Nor'wester Therapy Dogs is a wonderful organization," says Kelly. "Our two directors make it what it is. They have new and exciting ideas, always with an eye to the future. This is an organization which keeps in close touch with its volunteers, not just once a year."
"Reading and learning with Miss Daisy has been a wonderful incentive for my reluctant students," says Mrs. Swenson. "The dog's presence is also a motivational reward for students with behavior problems."
Kelly and Miss Daisy are making a difference!