Community Support
Fundraising
2015 NOR'WESTER READERS DOG WALK AND FAMILY FAIR
Saturday, May 2, 2015
(rain or shine)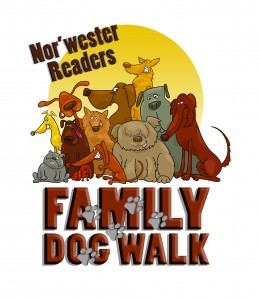 The Nor'wester Readers Dog Walk and Family Fair is the chief fundraising event for the Nor'wester Readers Canine Assisted Learning Program. It is an end of the school year celebration to spotlight the amazing work our therapy dogs do in public and private schools. The donations and sponsorships received through this event make it possible for us to continue offering our much needed and highly requested services.
We are also inviting organized groups such as girl/boy scouts, 4H, athletic teams, cheer teams, dog clubs, etc. of 10 or more individuals to walk free. Group registration should be done at the registration table the day of the walk. This is a wonderful opportunity for groups to spend time together at an exciting event and to support a worthy cause.
FMI: 215-815-5700
LOCATION:
Tyler Park Center for the Arts entrance
(off Newtown-Richboro Rd. Rte 332)
Number 1 Lane Trail
Richboro, PA 18954
REGISTRATION:
Starts at 9:30AM
3 mile walk: 11AM
½ mile mini-walk: 11:30
REGISTRATION FEES:
$15 Individual
$25 Parent and child
$50 Family (3 or more members of the same family)
ONE dog walk t-shirt will be given to all pre-registrations received by April 10th.
*Teachers Hosting Therapy Dogs Walk Free
*Organized Groups (i.e. Girl/Boy Scouts, Athletic Teams, 4H, Cheer Teams) of 10 individuals or more will walk free
IN ADDITION TO THE WALK, WE ARE FEATURING:
On-site CGC, CGCA, and Therapy dog testing (Call 215-514-7315 for more information and to pre-register)
Pet Photography by Hillary Shemin
Carol Wagner's Dancing Dogs
Face Painting
Pony Rides
Raffle Baskets
Balloon Art
Dog Contest
Canine Exhibitions
Games
Exhibitors
AND YOU WON'T WANT TO MISS
The Council Rock Administrator-Teacher Agility Face-Off!
Come and cheer on your favorite principals and teachers as they face off over an agility course. We guarantee lots of laughs and fun as they negotiate a series of obstacles that challenge their skill, athleticism, and sense of humor.
SPONSORS ARE WELCOMED:
If interested in being a sponsor, click here to download our sponsor form.
EXHIBITORS ARE WELCOMED:
If interested in being an exhibitor, click here to download exhibitor form.