Literacy & Learning
Testimonials
Karen and Brigg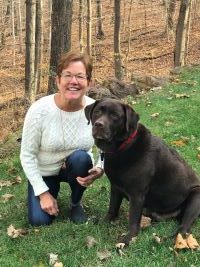 "I have a student in my special education classroom that can be considered "non-verbal". Only when prompted does she use expressive language, but spontaneous expressive language continues to be an IEP (Individual Educational Prescription) goal of hers. After a third weekly visit from Karen and Brigg, this student shared more detailed information about her own two dogs and their size and color without more than two prompts from me.
After the visit was over and Karen and Brigg left our classroom, on two different occasions that afternoon, she spontaneously requested "Help?" and "Can I use the bathroom?" without being prompted. This is a goal she is working on, and this is the first time this year she has done this.
I link this increase in independent communication directly to the therapeutic rapport a student with special needs establishes with a therapy dog like Brigg. There is truly something magical about the relationship between student and therapy dog from a very early point in the visits to the classroom. The calm, non-judgmental demeanor the therapy dog brings to the classroom, provides the students with the patience and security they need to take risks (like speak unprompted or read aloud). The students are accepted, not judged, and are seen as a child, not a disability.
I have had the pleasure of working with a Nor'wester therapy dog and handler for five years. I have success stories like this almost every year.
Thank you so much Karen and Brigg. This is why this program is so important."
Your forever supporter and teacher,
KV