Testimonials
Loyalty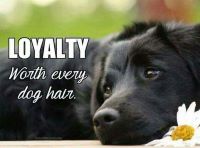 It's inevitable that we sometimes lose therapy dog teams during the school year. It's a sad reality that is often difficult for children and teachers who have worked so closely with the therapy dog and handler.
Nor'wester handler Karen McAllister shared a recent experience when a former special needs student made a sympathy card after learning about Moose's death.
Karen wrote: "About five years ago, my daughter was teaching life skills to children with special needs at Olney Charter High School in Philadelphia. She asked me if my bulldog Moose and I would visit her classroom as a therapy dog team.
I don't know who enjoyed our visits more: Moose, the students, or myself. They all got such a thrill from our visits and made important academic strides with Moose by their sides. My daughter eventually relocated to another school district in an administrative role, and we stopped visiting Olney.
About a month ago, one of her former students asked how Moose was, and she had to tell her that Moose had died. This student, who has severe language challenges, had been very fond of Moose. Later that day, the student gave my daughter a special card and message for me and my family. The drawings are beautiful and so expressive and reminded me how worthwhile our visits to Olney had been."