Testimonials
Volunteer
A HANDLER SHARES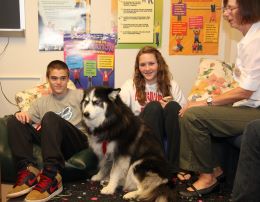 I am a retired Council Rock special education teacher. The year before I retired, my husband and I rescued a 5 year old Siberian Husky named Rory. Neither of us had any past experiences with dogs. Our youngest adult daughter had adopted a Husky who became our grand-dog, and we adored him. My daughter said to us one day, "Why don't you get your own dog?" That's when we adopted Rory.
After we'd had Rory for about a year, I was at St. Mary's Hospital one day waiting for my husband while he had a medical procedure. A volunteer walked into the waiting room with her therapy dog where all of us were anxiously awaiting updates regarding our loved ones. The reduction of anxiety in the room was immediate and so apparent, I thought to myself, "Rory and I could do this!"
I enrolled in training, and we got our certification. After I retired, I discovered there was a therapy dog organization in my local school district called Nor'wester Therapy Dogs. I knew I wanted to continue working with kids, so this was a perfect fit for me and Rory.
Thanks to the Nor'wester organization, I get to do my favorite things every week:
spend time with my dog in a stimulating and educational setting
spend time with kids which keeps me on my toes
know we are making a difference when we see every smile we get from the students and teachers
We are so grateful we have this opportunity to be of service!
Thank you Nor'wester Therapy Dogs!!
Contributed by Michele Lecker
(Rory and Piper)