Literacy & Learning
Therapy Dog Certification
Volunteer
MIKE NELSON AND BUBBA (part 1)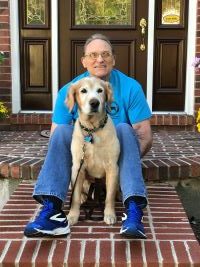 Mike Nelson and his Golden Retriever Bubba have been volunteering with Nor'wester Therapy Dogs since 2012. They are one of our teams that work primarily with special needs students. Not only do Mike and Bubba currently visit four classes weekly, they also do summer Extended School Year visits. We asked Mike to share a bit about himself, the dogs he's had in his life, and how he came to therapy dog work.
Mike and his siblings were born in Brooklyn, NY and later moved to New Jersey when he was a teen. He received his Civil Engineering degree from NJIT and his master's degree in water resources engineering from Villanova University. Ultimately, Mike moved to Philadelphia with his wife Barbara. They have five children and ten grandchildren
When they moved to Philadelphia, they bought a house and it was time for dogs to come into their lives. Over 50 plus years of marriage, Mike and his family have enjoyed seven dogs (2 Vizslas and 5 Golden Retrievers).
Mike adopted his fourth Golden Retriever from the Delaware Valley Golden Retriever Rescue (DVGRR). All his previous dogs had been puppies purchased from breeders. When Mike picked up his first adopted dog from DVGRR, they recommended that he enroll the three-year-old Scoobie in dog training classes. Mike then joined Old York Road Dog Training Club (OYRDTC) on the recommendation of his vet.
This was Mike's first experience with formal obedience training, and he said, "Everything I'd learned before was wrong!" The patient instructors quickly re-educated Mike about positive reinforcement in training. Mike declared, "Scoobie, my adopted Golden, learned much quicker than I, and eventually, he was competing successfully in competitive rally events."
Scoobie was also a wonderful and very obedient family dog. Sadly, Mike and his family lost Scoobie to cancer around the age of eight, and he immediately asked OYRDTC to find him another Golden Retriever.
Within weeks Mike had a new three-year-old Golden named Bubba, and he began the training process anew with the club. Bubba was very obedient and a quick learner who loved everyone. It wasn't long before the instructors recognized that he would make a great therapy dog. Mike said he had no clue what a therapy dog was. Mike and Bubba trained so they could test for the proper certifications, and six months later Bubba was a registered therapy dog!
Bubba and Mike have worked exclusively with the Nor'wester Therapy Dogs organization. Their first assigned class was with children working on their reading skills. If the children did well, the teacher would allow Bubba to do a trick for them. Mike would let the student give the command, and Bubba would respond.
Mike shared that his teachers were always quite creative in how they incorporated him and Bubba into their academic goals and lesson plans. (Next week Mike shares more therapy dog experiences and some of the ways he and his teachers collaborated in making learning more fun for the students.)