Volunteer
NOR'WESTER THERAPY DOGS APPRECIATION BREAKFAST
Our volunteers were invited to our annual Appreciation Breakfast to express the organization's gratitude for their commitment to our therapy dog program. This year we held the celebration at Corner Bakery Café in Newtown, PA.
During the gathering we present annual certificates of service and do special recognition for five and ten year honorees. We had three five-year honorees who received a special certificate and a rhinestone paw pin: Janine Monico, Lynn Lenz, and Lynne Tatarowicz. We had one ten-year honoree who received a special certificate and an engraved frame including a photograph of the handler and dog: Nan Muska.
Janine Monico rebuilt our website and contributes her expertise and talent as our webmaster. She also advises us on how to use social-media effectively and has guided us in employing our website blog as a way to reach the public and make our website more interactive.
Lynn Lenz has been our public library coordinator since 2014. She works with the librarians at the Free Library of Northampton Township and Southampton Free Library to keep our "Read to the Dogs" program running smoothly. Lynn also collaborates with the librarians to organize the annual summer reading program for children in kindergarten through grade six. In addition, she schedules therapy dog teams and is on site to monitor the visits.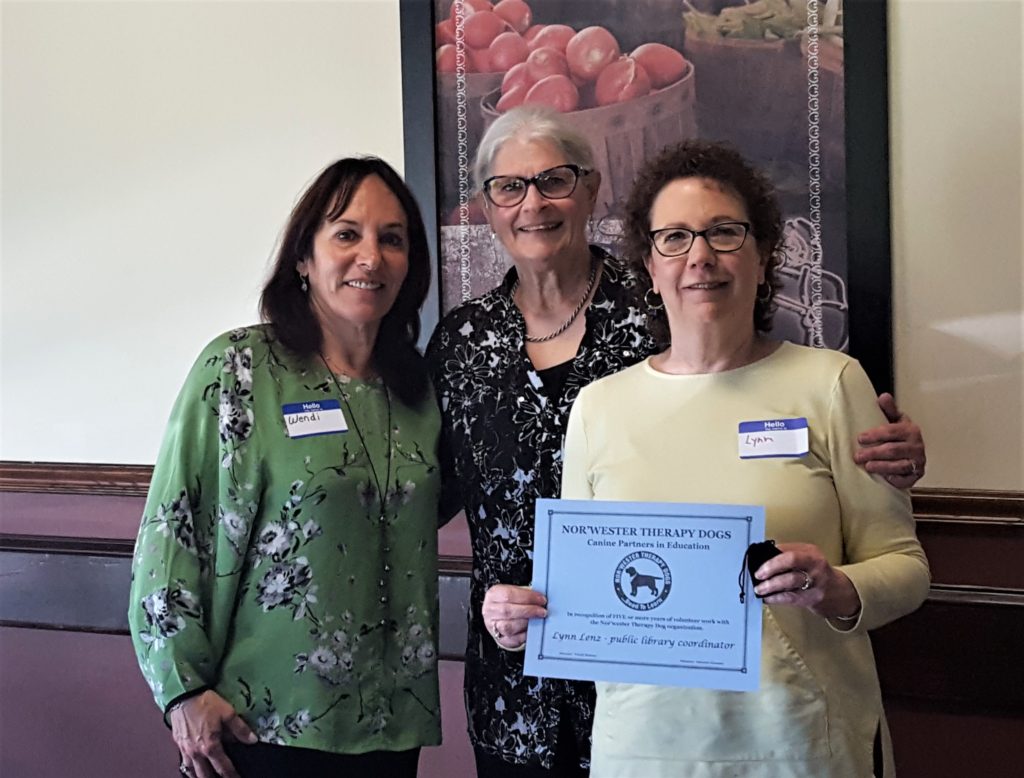 Lynne Tatarowicz and her Basset Hound, Oberon (better known as Obie), have visited classes at Quarry Hill Elementary in the Pennsbury School District for the last five years. They were much loved by their classes and were also very popular with all the students at Quarry Hill who would see Obie trotting down the hall with his long ears flopping on his way to class. Our ten-year honoree this year was Nan Muska who has worked with three dogs over the years. She joined Nor'wester Therapy Dogs in 2009 with Jillian, a black Lab mix who was a refugee from The Seeing Eye. Jillian had a talent for working with special education classes and was an extremely sensitive and intuitive therapy dog. Sadie, a purebred black Lab, was known for being very laid back and did anything you asked her to do. . . after she thought about it for a few minutes. Penny, a Golden Retriever, is another refugee from The Seeing Eye. Penny also does most of her work with special needs children and has been known to sense and interrupt seizures in her multiple disabilities class. This spring Nan started working with her newest dog, April, also a black Lab. April is learning the ropes and is currently figuring out what her job is in the classroom she's visiting.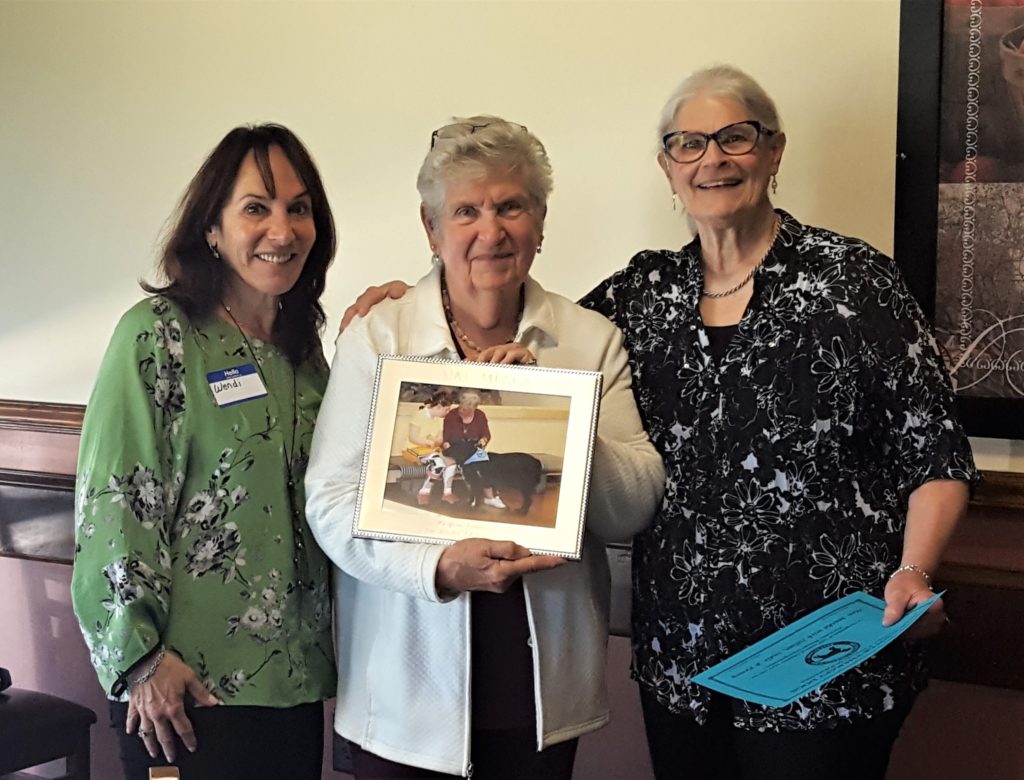 Our volunteers look forward to our gathering each year. They enjoy talking with and meeting new members. Nor'wester Therapy Dogs wouldn't be the successful and respected organization it is without our wonderful group of volunteers dedicating so much time to making a difference in the classrooms they visit. If YOU have a well socialized dog and love working with children, why not think about joining us!