Crisis Intervention
Emotional Support
THERAPY DOGS AND SOCIAL EMOTIONAL LEARNING: WHEN FEELINGS GO TO SCHOOL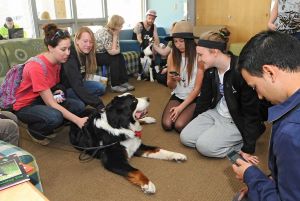 Research states that 82% of teenagers today recognize that they suffer from medium to high stress levels during the school year, and 46% of teachers feel exposed to high stress in their daily lives
Our emotional state conditions our whole life; it is the engine of our daily experiences in school and influences student performance. School is often blamed for being too focused on the cognitive aspect of learning, putting the academic contents at the center of the programs, but neglecting how they should be taken in. Just think of the effectiveness with which a motivated and interested student is able to achieve good results compared to a listless and under-stimulated classmate.
This is why therapy dogs are being used more frequently to target Social Emotional Learning (SEL) goals. Educators are realizing the need to place the emphasis on putting the emotional aspect on the same level as the cognitive one in learning. Focus is being placed upon learning to manage one's feelings, not only in terms of self-control, but also of self-awareness, ability to set goals and relate to others. These goals are often being included in school district strategic planning by targeting student wellness.
The presence of therapy dogs has been proven to reduce stress in the academic environment. The Nor'wester organization routinely works with guidance counselors, in alternative schools, on college campuses, in social/emotional classes, and offers crisis intervention services. All of these therapy dog visits target the emotional needs of students. The wise teacher adapts the therapy dog visits to specifically address needs of individual students. IEP (Individualized Education Plan) and academic goals for students drive the lesson plans while the dog is visiting. The therapy dog team becomes an important teaching tool and often reaches students in ways that normal strategies are not successful.
Targeting social and emotional learning improves pupils' academic performance. They also demonstrate better school behaviors, a greater ability to manage stress, and a more confident attitude towards themselves, towards others and towards the school. And when you put a therapy dog into the equation, a higher percentage of students experience positive strides in learning successful coping methods.