Literacy & Learning
Testimonials
Bubba
At Halloween, Mr. Nelson brought Bubba's costume to class in a bag. The students had clues to guess what the costume was. They were eventually able to guess that Bubba was going to dress up as a super hero (Super Bubba). They were thrilled when Bubba put on his cape, and each student had their picture taken with him. These pictures were then added to paragraphs they wrote about Bubba. The information collected during the first class visit and interview was used to write an informative paragraph about Bubba.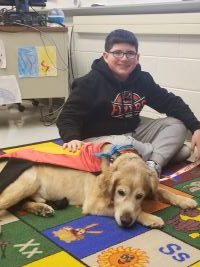 Dominic Whiteman wrote:
Bubba is my new best friend. Bubba is an 11 year Golden Retriever who works as a therapy dog. It took one year to train to be a therapy dog. Bubba likes to take walks in the forest and bark at the squirrels and deer. I get excited when I see Bubba come through our classroom door!
Jen Cook
Maple Point Middle School