Library
Literacy & Learning
Therapy Dog Certification
Therapy Dog Training
Volunteer
Casey the Blind Wonder Dog (Part 2)
Casey's Journey to Becoming a Registered Therapy Dog
When I adopted Casey, I had no idea what to expect or how to train a blind dog. I had no idea that a dog born without eyes could run circles around sighted dogs. . . literally!  Being a Border Collie with natural herding instincts, Casey always attempts to herd. Casey runs just as fast as any Border Collie and is amazingly aware of his environment.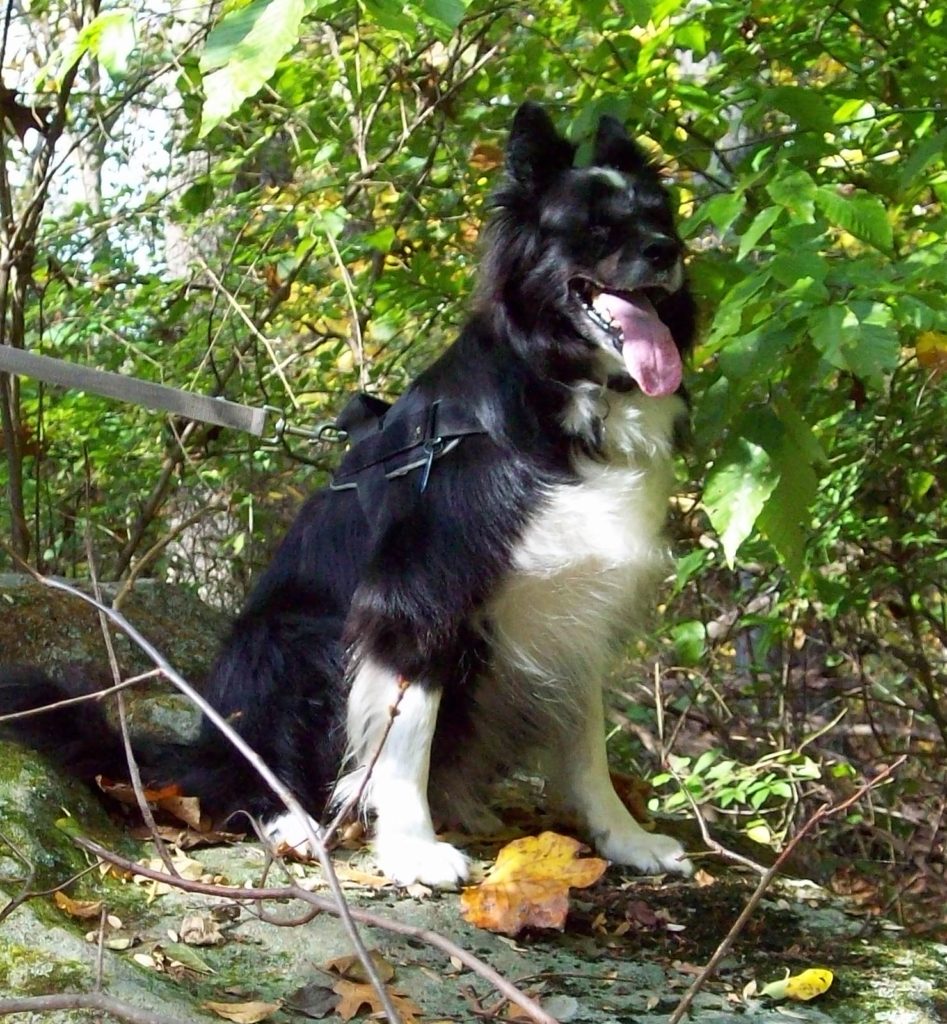 I spent the first year training Casey in basic commands. It was difficult because I was so accustomed to using hand signals and eye contact; obviously neither of these worked with Casey. I still catch myself using them when I give Casey a command. In the beginning I used a special touch or a sound (like a clicker) along with the command word and eventually phased out the touching and clicking. Casey wasn't very food motivated, but he loved to be praised. He associated the clicker with praise. After we got Archie, a sighted Border Collie, Casey finally discovered that treats were pretty special!

Casey was like a sponge and absorbed everything I did with him. He seems to have an uncanny and innate ability to understand what I want. People always ask how I trained Casey. I never take credit for it; Casey is just a natural.

The first year of training I exposed him to all kind of things: hiking, biking, swimming, and meeting people. I even did agility to teach him how to navigate on his own in unexpected circumstances. Much to everyone's surprise, he loved doing agility. He was even better than the sighted dogs in his beginner's class!
Casey really trusts me. He's not afraid of heights, dark places (of course!) or the unexpected. He's always on leash when he's doing agility obstacles. His safety always comes first.
The instructor had never taught agility to a blind dog and was amazed how well he compensated. It doesn't matter what he tries; he always succeeds.
Casey loves people, and everyone who meets him seems to make a special connection with him. Everyone kept telling me he should be a therapy dog because he was so special.
One day at the dog park, Casey was running and playing with the other dogs when someone again mentioned that Casey would be a great therapy dog. One of the women exercising her dog at the park that day told me all about her experiences doing therapy dog work. She explained what was involved and how to go about getting Casey registered as a therapy dog. At the time it was late May. She said I should start the process immediately since I wanted to get involved in a reading dog program in our local school district. That way we could train through the summer, get tested, and be ready to go by September.
I went home that day and looked up the Therapy Dogs Incorporated organization (now called Alliance of Therapy Dogs) on the internet. I contacted one of their local evaluators and set up a meeting with her to find out what Casey and I needed to do to prepare for testing. Much to my surprise, the evaluator said she did not think Casey needed any additional training and was ready for testing. Within the week Casey visited the skilled nursing area of a retirement community and passed the testing with flying colors. Casey was now officially a registered therapy dog.

However, since I decided I wanted to work with children in our local school district, Casey also had to pass the Canine Good Citizen (CGC) test. Again, not being sure if Casey could meet the requirements of the test, I asked the evaluator to observe him beforehand to tell me how to prepare. Again, I was told he was ready to test.

Within days there was a CGC test being administered, and Casey was just amazing! No one had any idea he was blind. He went through the paces and came home that evening with his Canine Good Citizen title.
I then contacted Nor'wester Readers (now Nor'wester Therapy Dogs, Inc), the organization that places therapy dog teams in our local school district. At the time, I was unaware that one of the directors of Nor'wester Readers had been at the CGC testing and had seen Casey going through his paces. They were delighted to have Casey join their group and immediately placed him in the summer Public Library program that was to start in July. Casey really got involved his very first day as you can see in the photo. Reading seemed to be his thing! That was six years ago, and Casey is still a regular at the Library.


​He visits nursing homes, works as an emotional support dog for children in a residential treatment center, helps children read and learn in area schools, and is a regular volunteer at the Free Library of Northampton Township in Richboro, PA. He certainly is an incredible Wonder Dog!